The culmination of this project will be a public event with an open-air exhibition with workshops, talks and a small farmers' market including new agribusiness startups and online sellers presenting their projects. In addition, panel discussions will happen at the HBS headquarters engaging experts and public in some of the main issues raised by the various outcomes of MHOPe.
Open air exhibitions and panel discussion
The "Food System in Cambodia" exhibition at Udom Garden, under the MHOPe project, Heinrich Boell Stiftung initiative project, portrays food innovation in Cambodia through the processing techniques of different vegetables and ingredients.
Objective:
The open-air exhibition/panel discussion is one of the outputs of MHOPe project was organized to:
engage with the main issues raised by the documentation series

raise awareness for problematic patterns of food consumption that are an hazard for health of nature and humans

promote discussion and awareness for more earth and human friendly approaches to food systems and nutrition

create a platform for networking and exchange the various actors of the food system amongst each other and with the public
Participants: the event gather approximately 300 people through-out the day
Activities during the day:
Activity 1: Open-air exhibition opening on Saturday February 12th lasted including a group exhibition with great photographers, music and more. There were around 40 photos of MHOPe project exhibited around the garden. Each photo portrays the story of workers behind the food cycle system in Cambodia​ and issues around the system.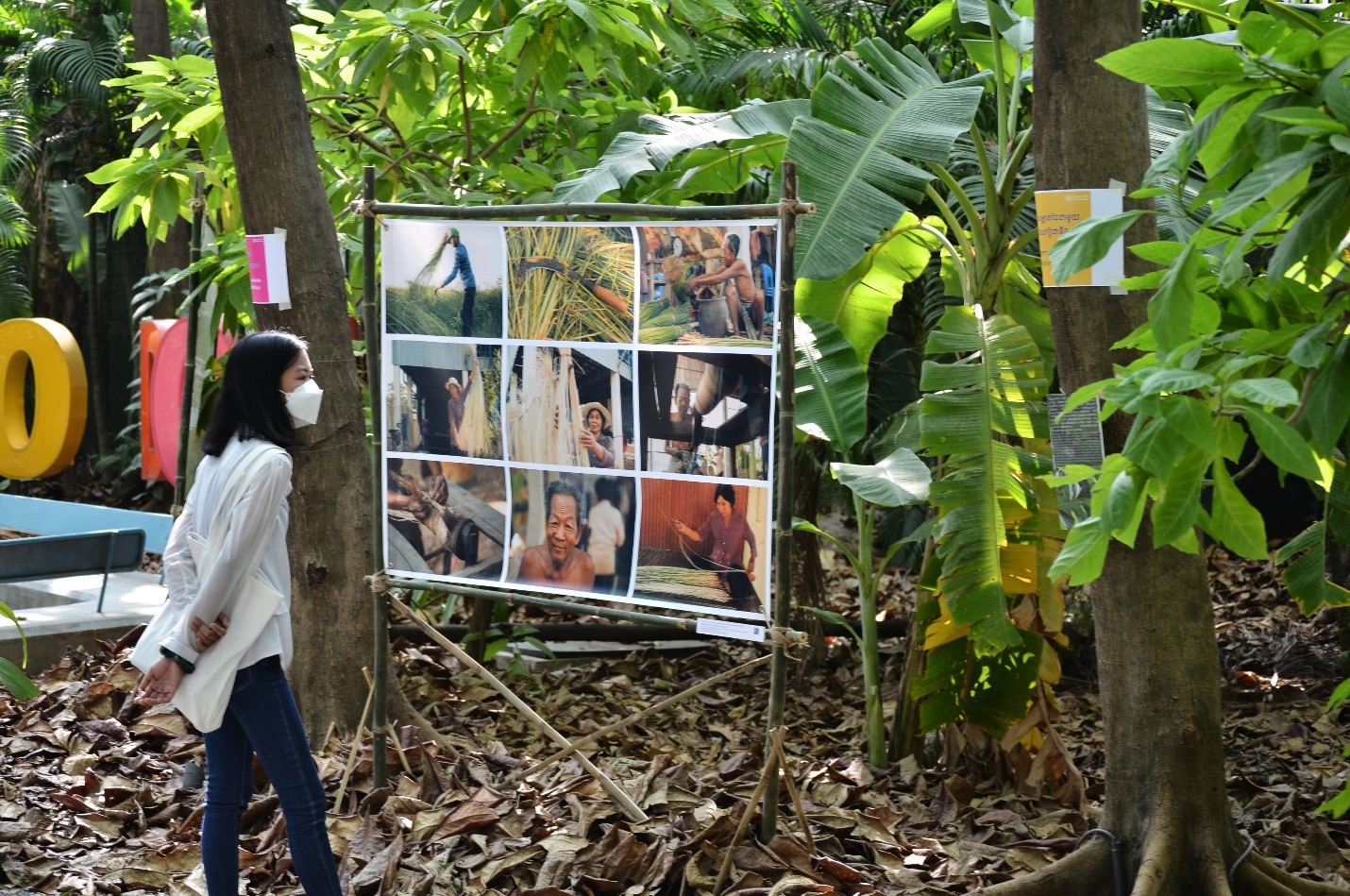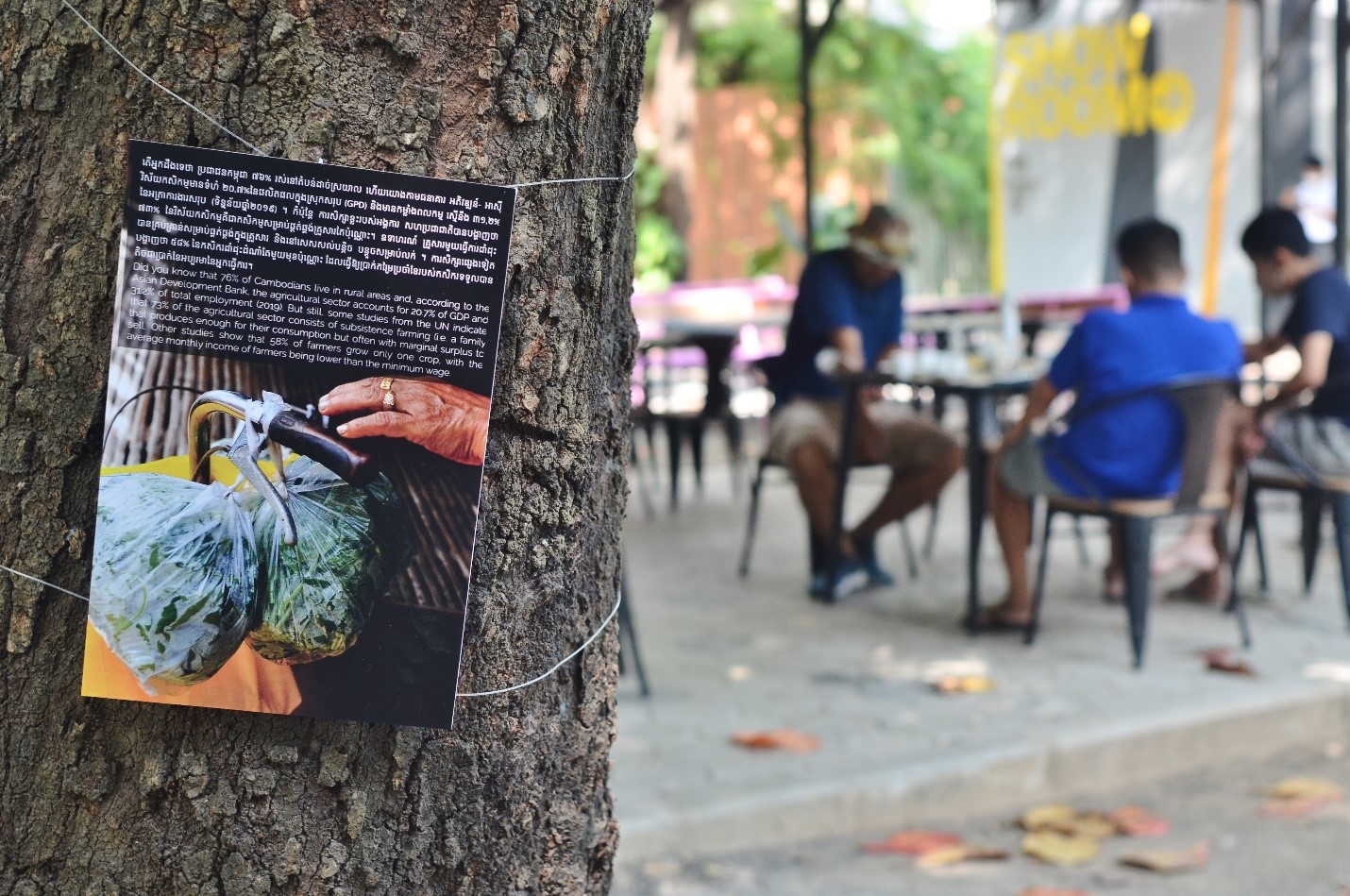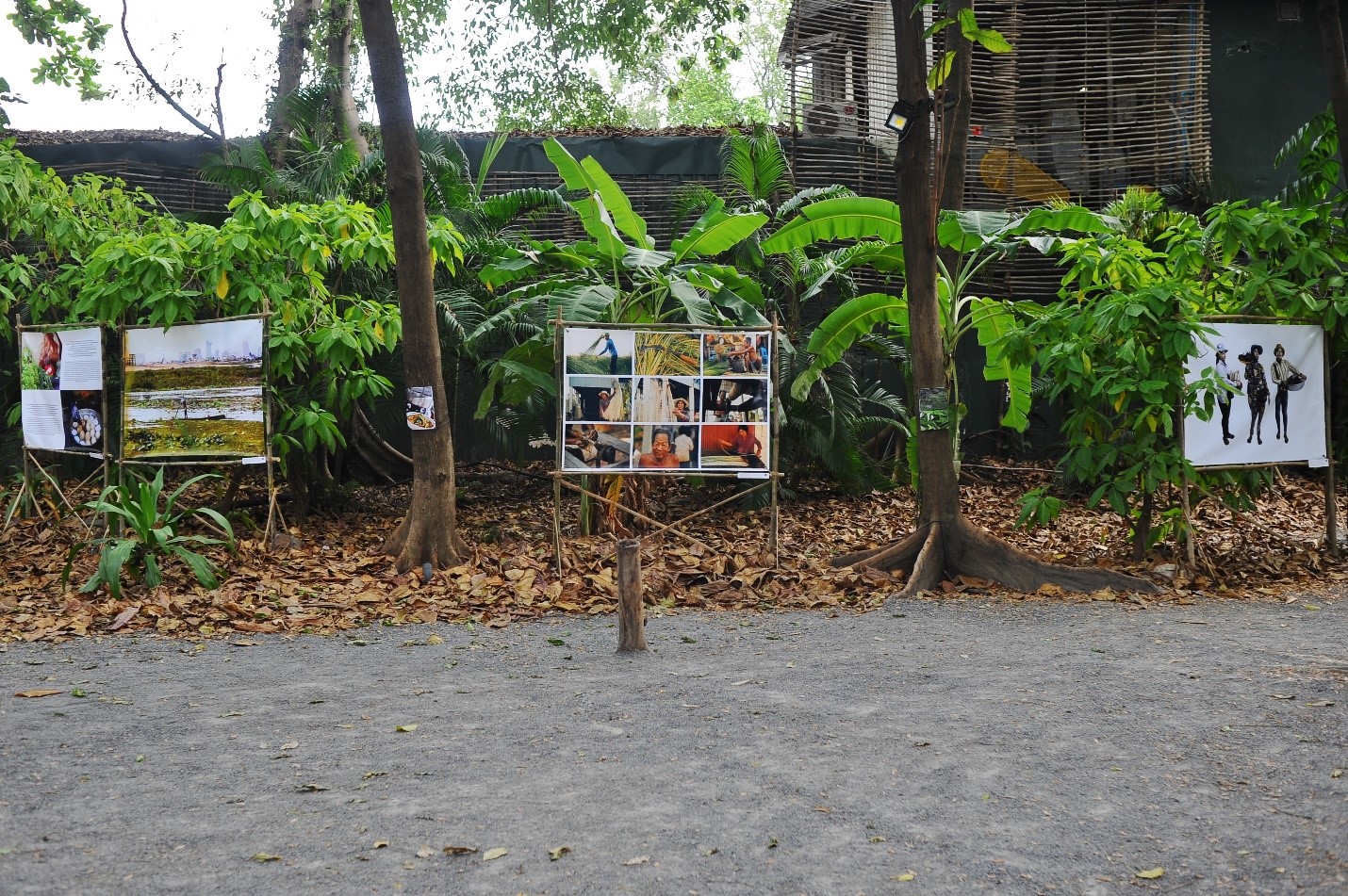 Activity 2: FOOD FAIR with projects showcasing their nutrition and sustainable solutions. There were 23 exhibitors participated during the MHOPe open-air exhibition as listed below. This exhibition had gained a lot of attention from people intending to support and learn about local food and products. The Vlog made by ASIP team depicts the activities within the exhibition as well as interviews with different vendors at the event to demonstrate the business innovation that focuses on environmental sustainability, health, and development of society. Link to the Vlog: Mhope Cambodia
List of partner exhibitors:
| | | |
| --- | --- | --- |
| GIZ - MUSEFO Cambodia | Cricket House | Crane Rice-NatureLife Cambodia Organization |
| SABADA | Pizza 4P's Cambodia | TWIN Agri Tech Co.Ltd |
| Farm to Table | Repot.Derm | Phnom Penh Used Books |
| Vanila 271 | Kokopon | Junlen |
| Phsar Touch (Reaksmey Turmeric/pickle) | Only One Planet Cambodia | Marine Conservation Cambodia |
| 1WoT-Natural Khmer Moringa | Gibbor Tempeh | Mono Farm |
| Snacklift- LIFT Academy Phnom Penh Results Driven Training - VitalDynamics Fitness | Cirad - La recherche agronomique pour le développement | Laor Penh Chet Printing House |
| Compost City | Local Vegetable Campaign | |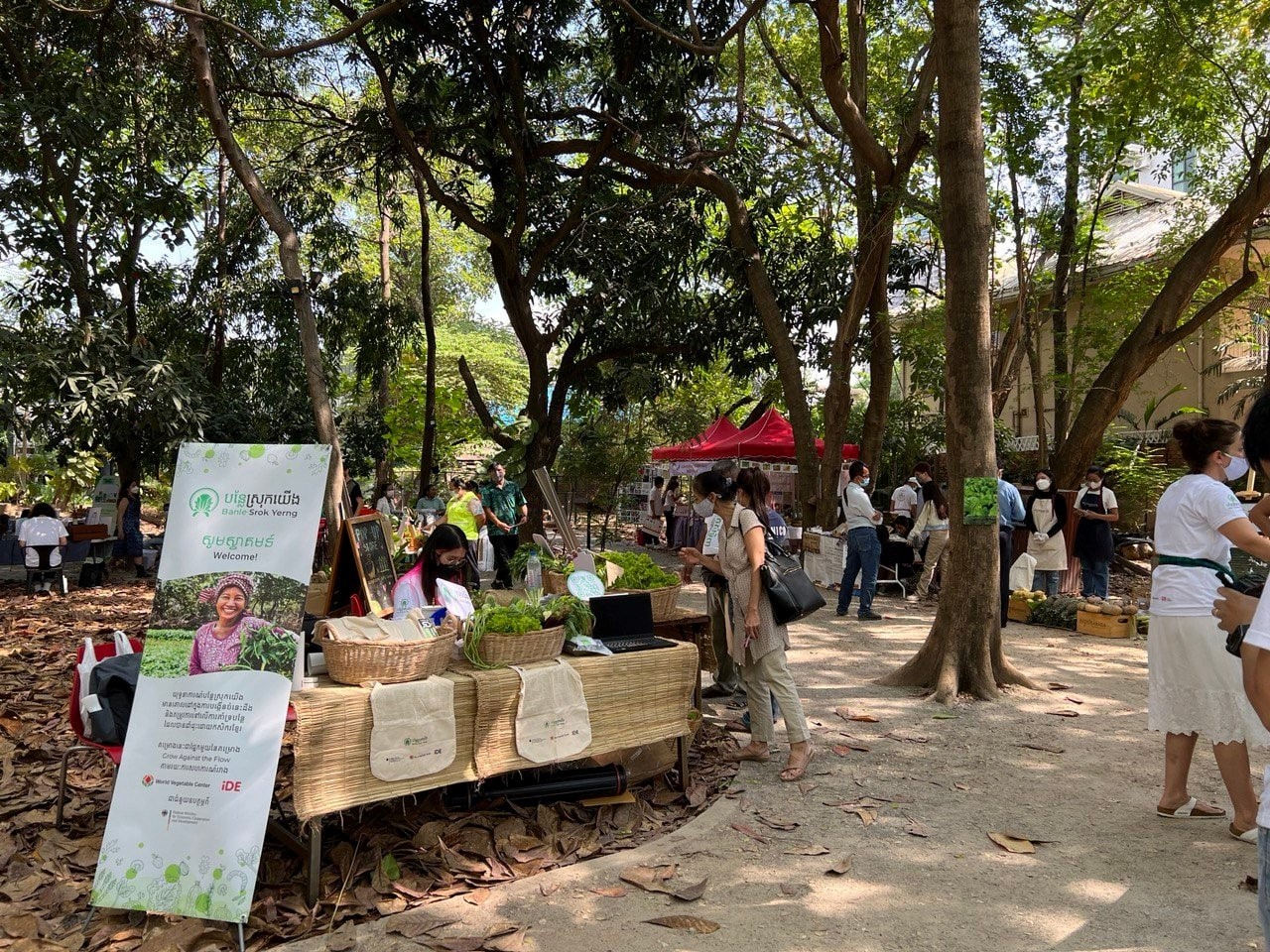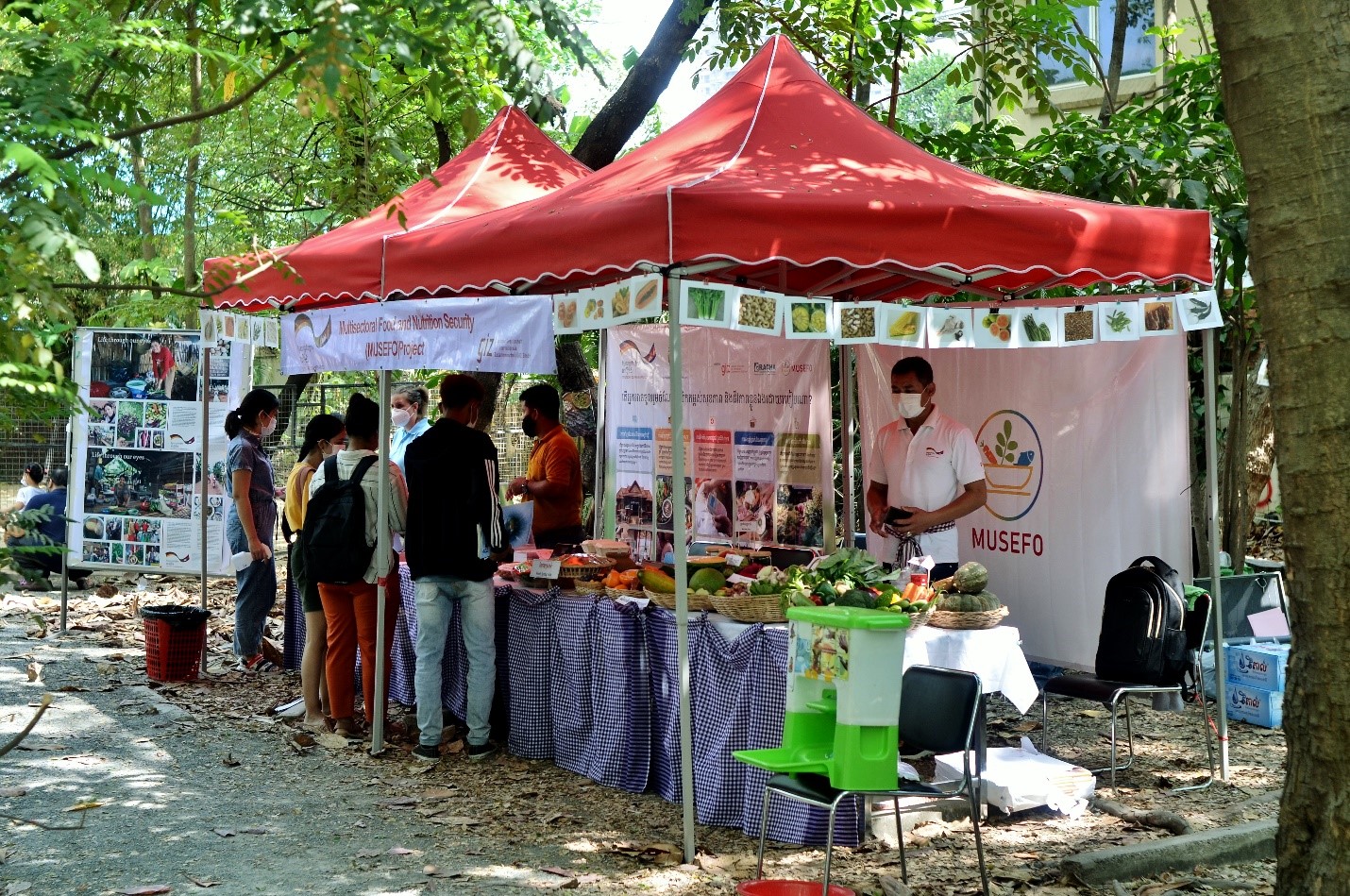 Activity 3: Panel discussions with experts and farmers about the food system in Cambodia (Khmer language only) under the theme of "Thought for food, food for thought". They were discussed among different guest speakers who have experiences and worked around they food cycle sharing positive influences towards the food system in Cambodia.
The first session covered on the "Production" moderated by Mr. Chhort Chhoravuth, and participated by three guest speakers (1 male):
1. Miss. Hun Hulsopheary, a Co-founder of Ruy Reach,
2. Mrs. Dy Theavy, a teacher and farmer,
3. Mr. Son Sovanda, a Project Manager at SmartAgro Sustainable Innovations Co LtD.
Link to the full discuss: https://fb.watch/eQGdE3Pd6c/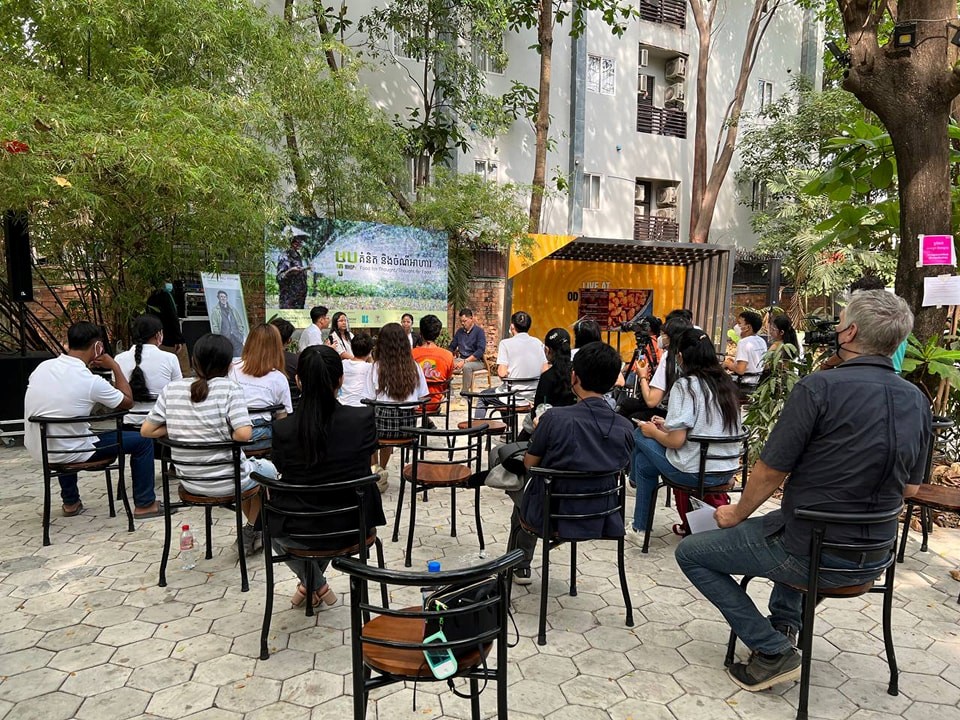 The second session covered on "Consumption and Nutrition" moderated by Miss. Chum Chanpanha, and participated by three guest speakers (1 male):
1. Dr. Pol Chanrithy, a Head of Nutrition Governance in MUSEFO Project
2. Miss. Neng Sokneang, a CEO of Kokopon (Cambodia) Co., Ltd.
3. Miss Soun Leaksmee, a Co-founder of Angkor Social Innovation Park (ASIP)
Link to the full discussion: https://fb.watch/eQGhy2-oDg/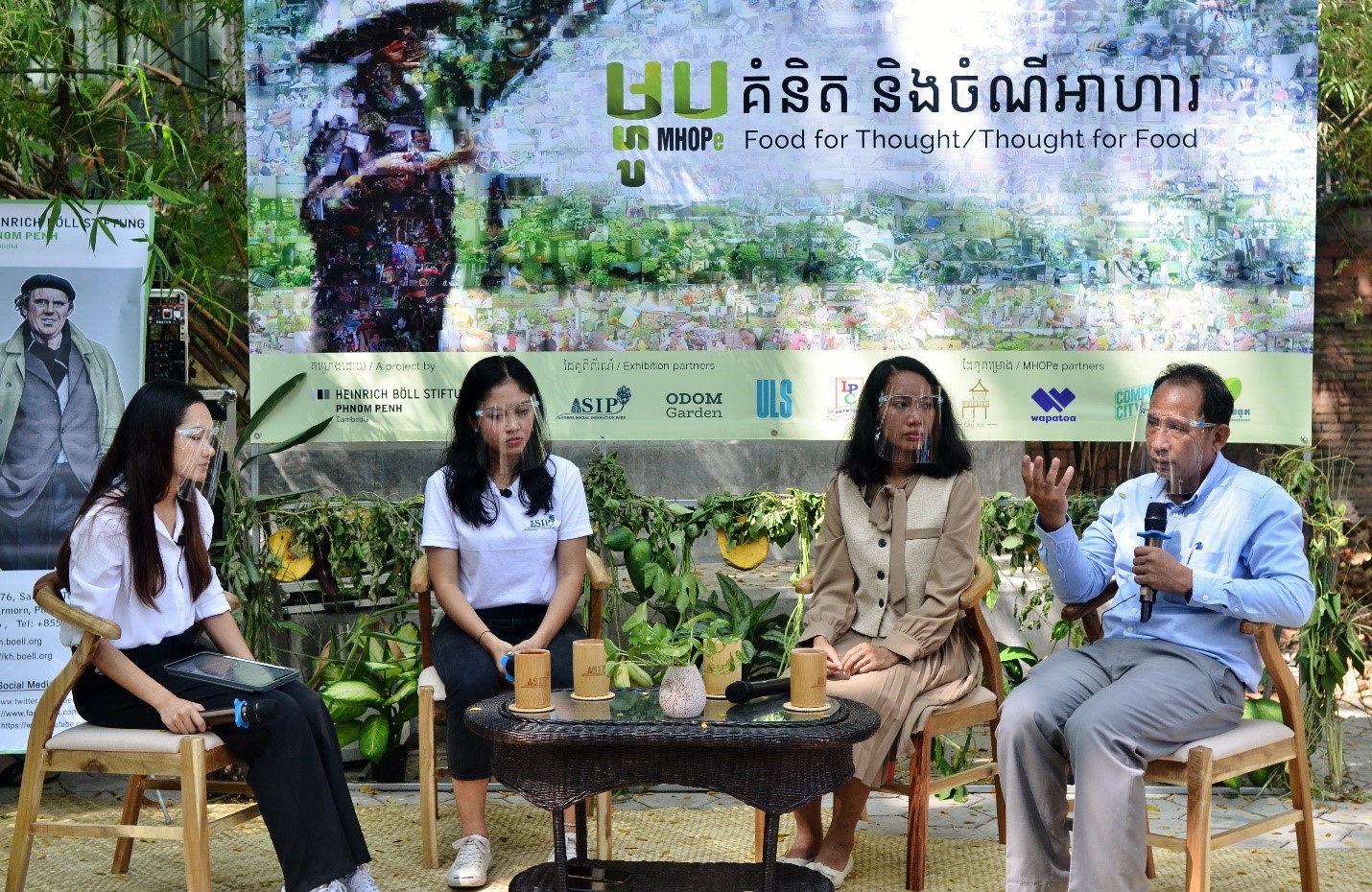 Activity 4: Samlor Korko tasting – made by local street food chef who featured in one of Photo stories of MHOPe project. The Vlog made by ASIP team demonstrates one of the nutritious Khmer cuisines, "Somlor Korko", that had been cooked with many natural vegetables and other Khmer spices. Link to the Vlog: Mhope Cambodia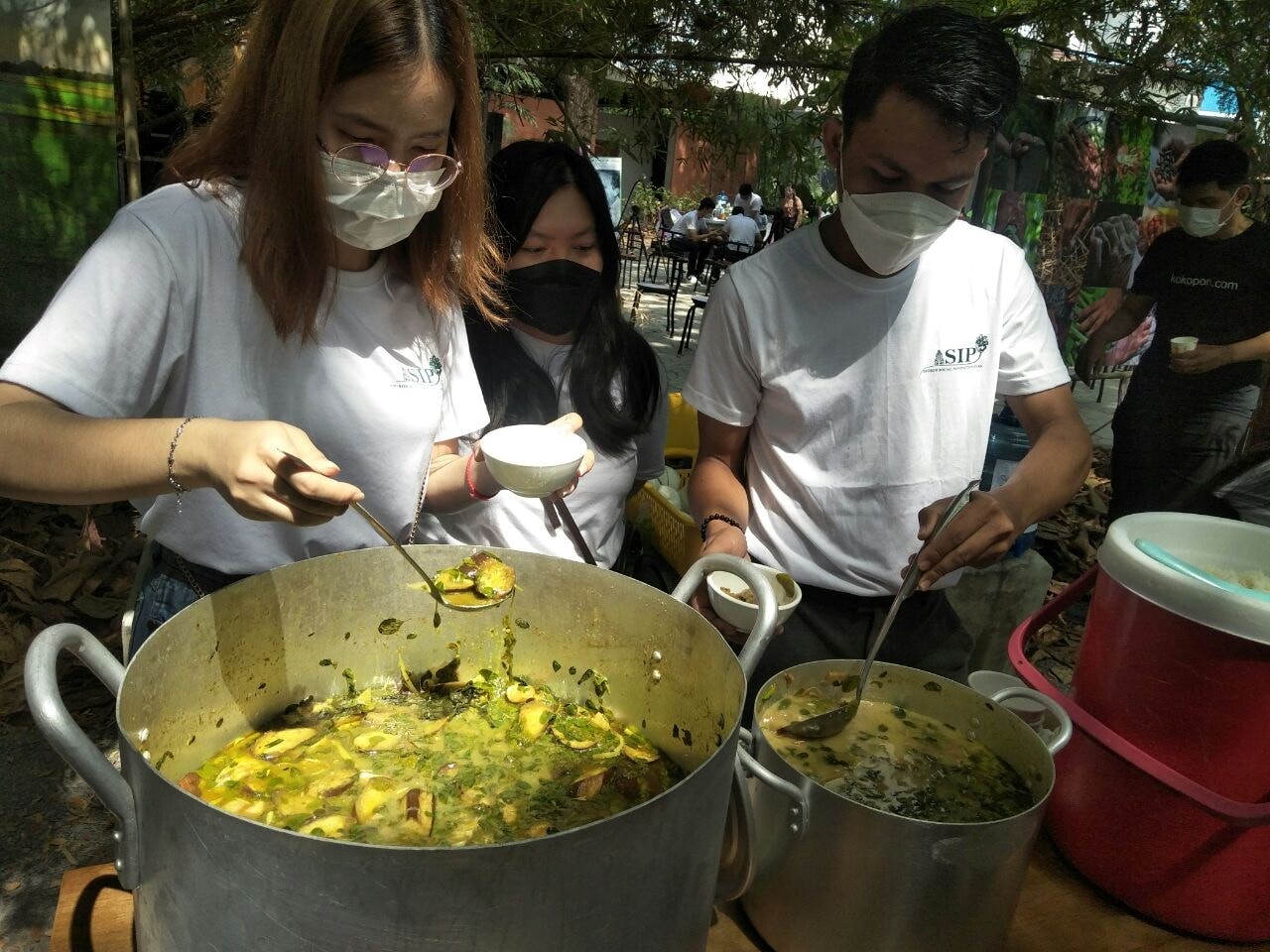 Activity 5-Fun activities
Quiz and games about food- hosted by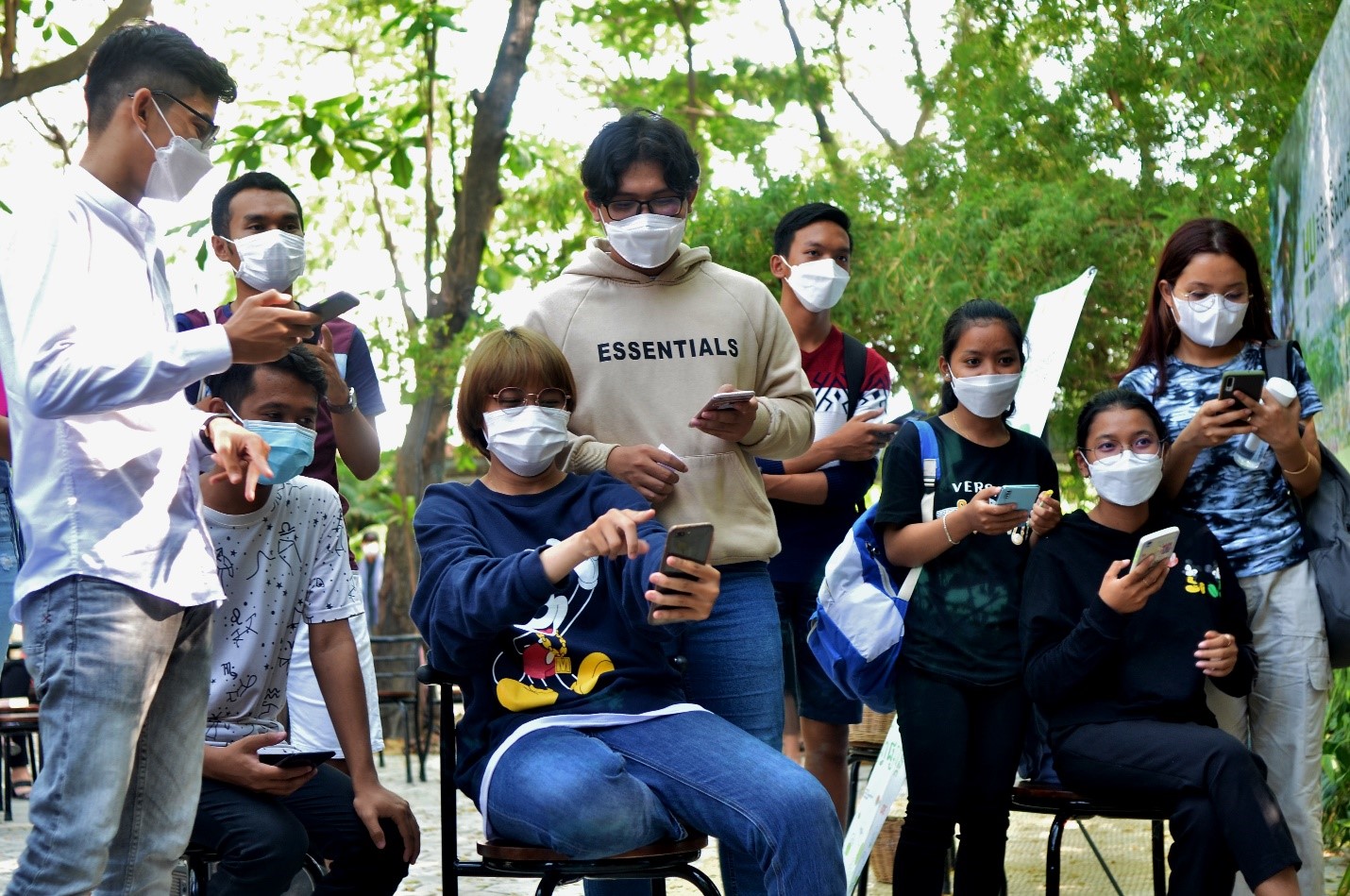 Activity 6: Entertainment, Live painting by Kakada Yi in collaboration with Kampumera, music by Pietro&Aaron & networking.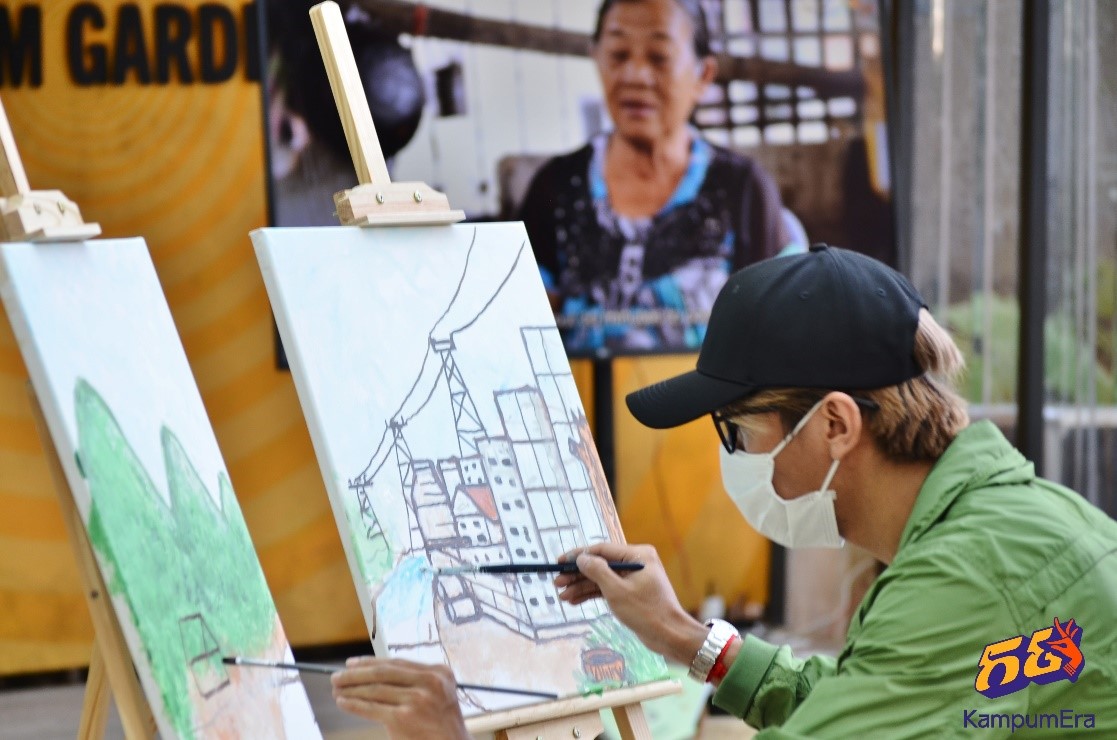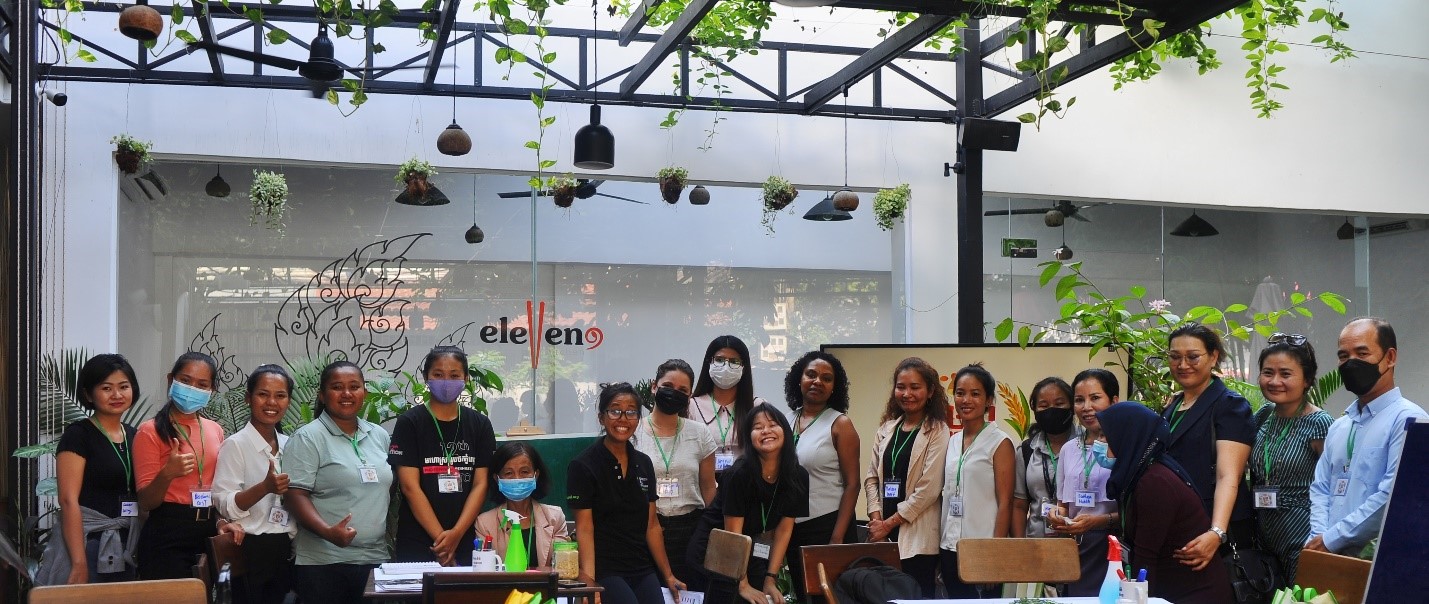 An event to discuss gender equality, constraints and biases, good practices and solutions in the Cambodian food system. How can we make the whole cycle of food more inclusive and fair for everyone?
Held on 29th March 2022, this discussion is following the month's International Women's day, and continuing our MHOPe project, we want to bring the conversation back to women working along the cycle of food. We believe women's rights and human rights, and the access to good food and a fair & equal working environment in our food system is possible! We hope to come out with an interesting list of topics and solutions from this discussion.
Co-hosted by Monorom from CompostCity, this discussion was organized based on the 'World Café' method and have the format of 5 different tables:
The discussion will follow the journey:
1. listing current gender-based problems in the country (each table addressing their specific topic)
2. identifying underlying causes (the why of the current reality, where the gender bias comes from)
3. discussing solutions on how to move forward (e.g. from your work-life experience what can you share that addresses the issues, propose concrete tools that are feasible to implement in the local context)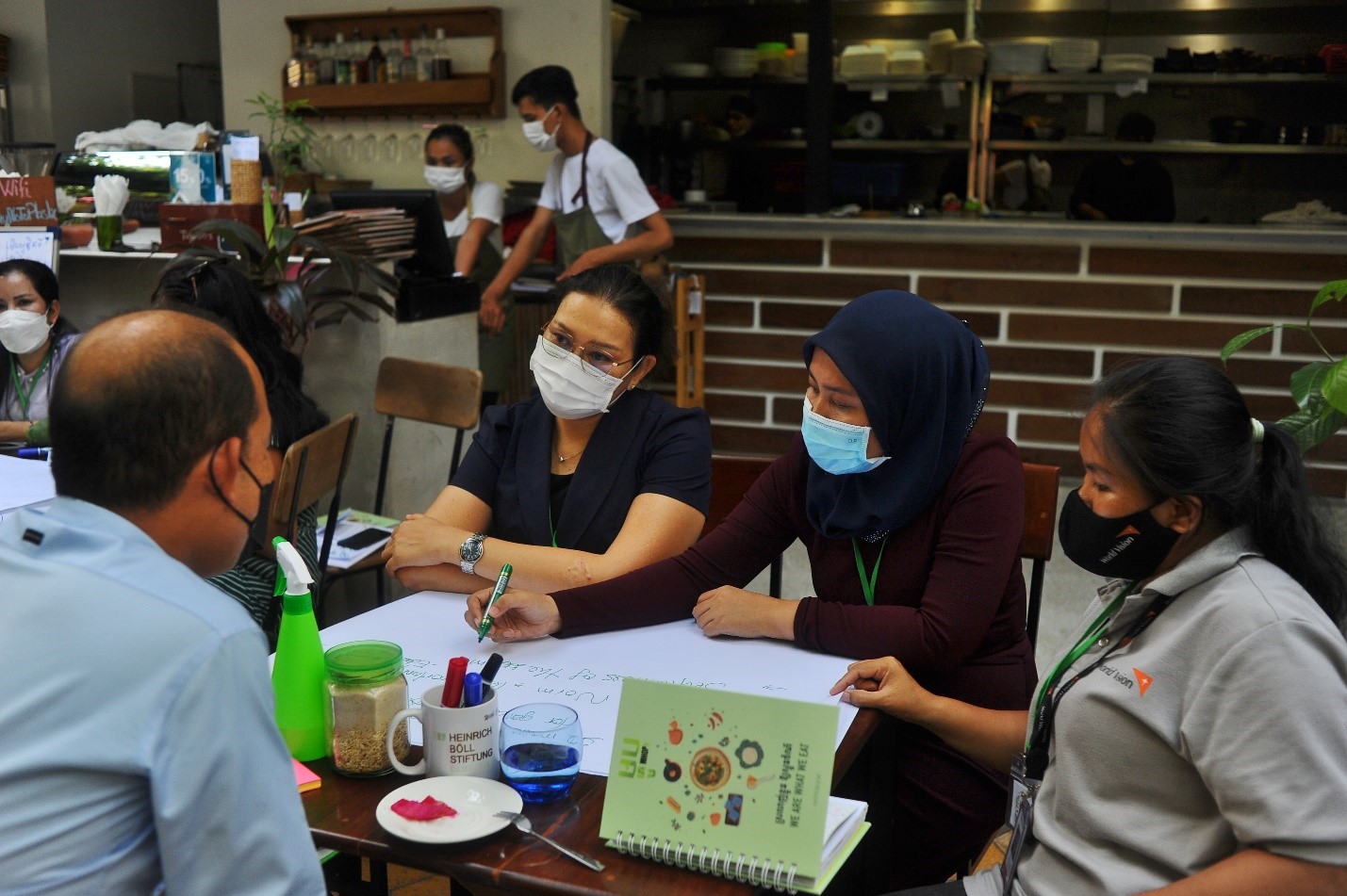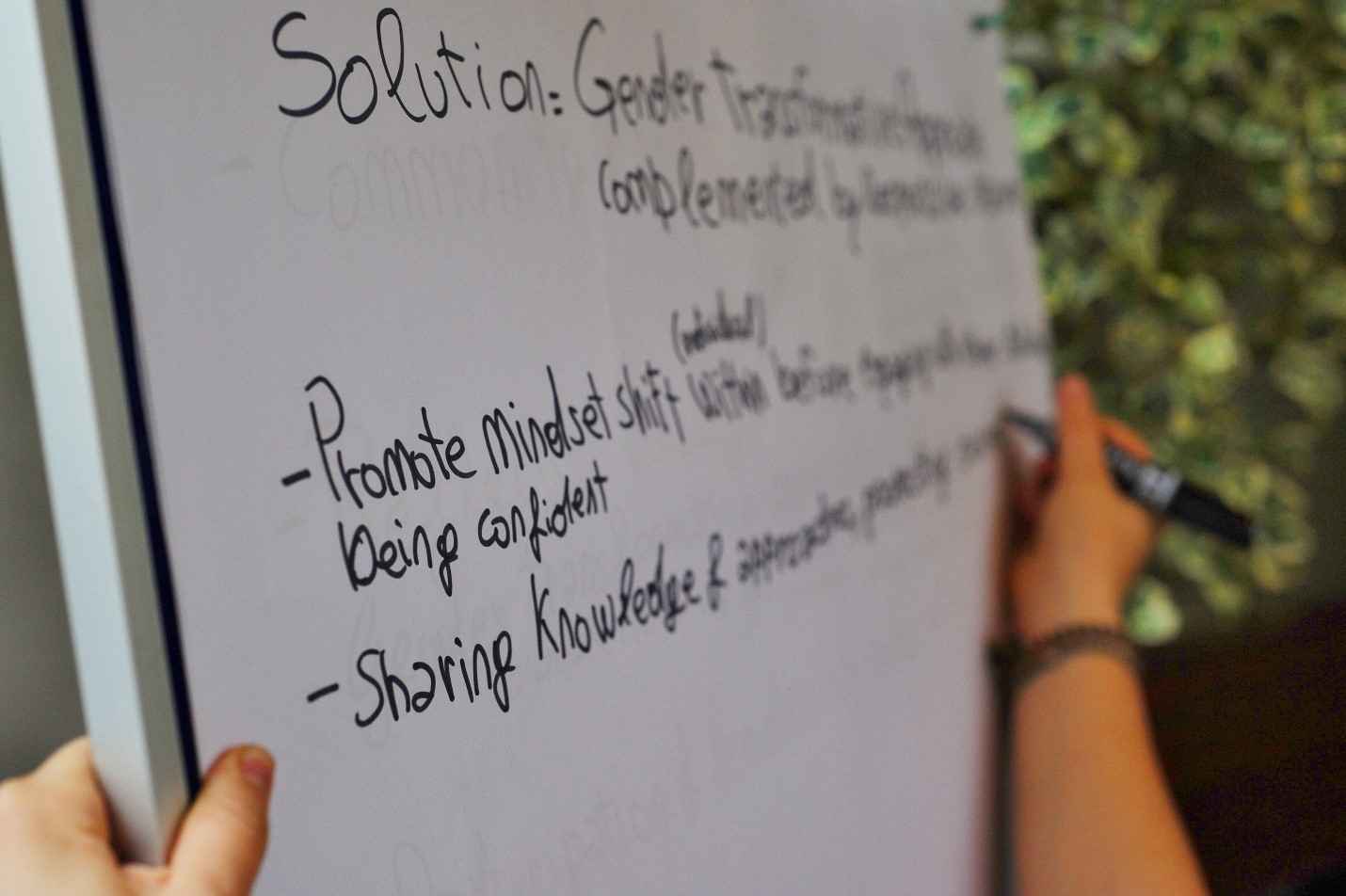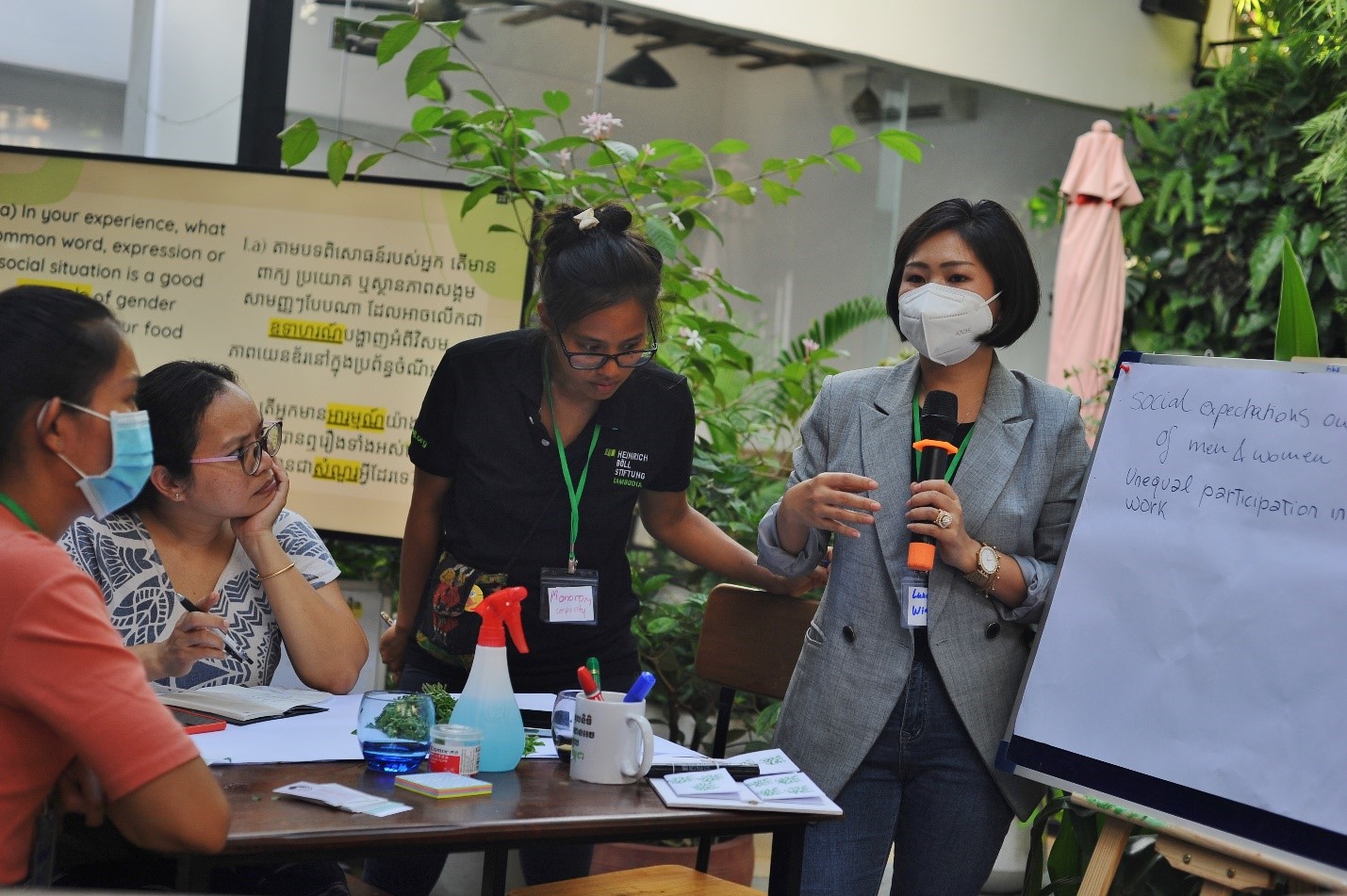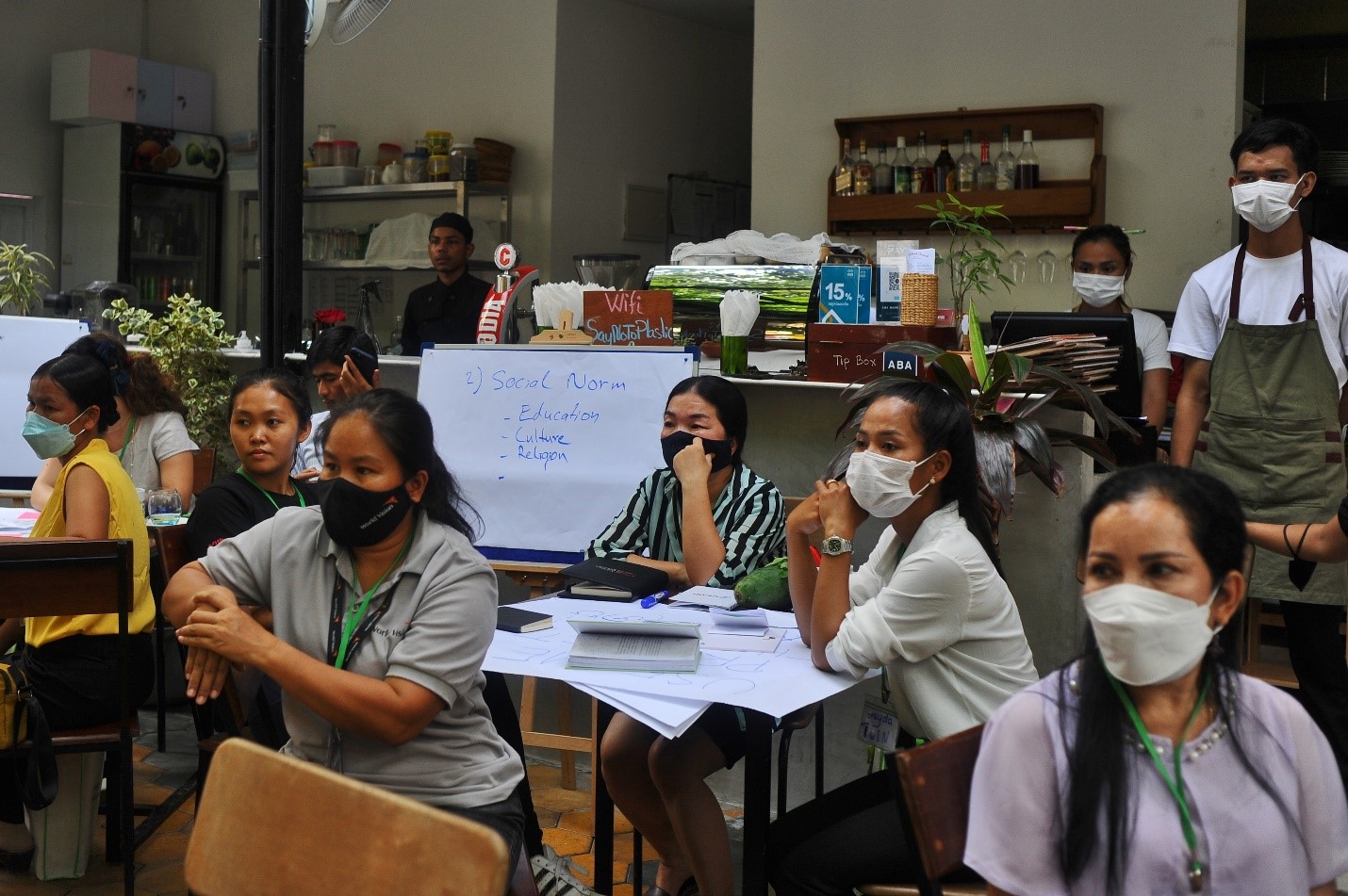 Participants: 22 attendees (1 male)
Each table brings together four people from a diverse range of skills and experiences. We are
bringing together:
a) people from organizations related to the food sector (NGO on farming, production, nutrition...)
b) entrepreneurs / people from the private sector in the food industry
c) people from NGOs with a gender-sensitive role
d) actors at the policy level, government, advocacy group...
Please read event report here: Event report